Gratitude Streaming

We are reminded of our blessings even more prominently in this season of Thanksgiving.  God is continually showering blessings upon us. Our Team Fabulous repeatedly practices developing gratefulness and joy. Habits are developed by repetition. We are beginning the process of melting toxic thoughts and building healthy thought networks (a dual process). Gratitude Streaming can be a fun tool for this journey. I learned of this concept from one of my students years and years ago. I believe she learned it from Mary Kay Mueller.
What is Gratitude Streaming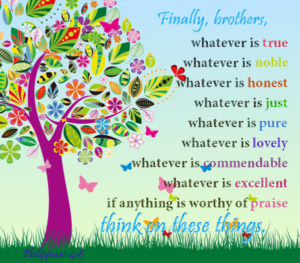 It is thinking one good happy, grateful thought after another. Our dominant thoughts create our attitude. How wonderful it is to face each day with an attitude of gratefulness. How our hearts will rejoice if we might also instill this into our children and grandchildren.
It's not too hard. Just begin thinking of one happy, grateful thought and write it or speak it. Then immediately think of another. See how many you can stream together.  Sometimes gratitude is a sacrifice because we may not always really wish to be thankful. God tells us to offer the sacrifice of thanksgiving. It is sometimes a sacrifice.
"I will offer to thee the sacrifice of thanksgiving, and will call upon the name of the Lord."
~Ps 116:7
"Without gratefulness, there is no greatness." ~ Pastor Keith Craft

These past several months of 2023, I have also begun the habit of purposefully rejoicing.  I set my alarm on my watch to remind me several times a day to smile and rejoice.  Joy has filled and is filling my heart daily.

God is  the God of comfort. We do live in difficult days. The Holy Spirit is willing and eager to comfort us in our griefs and losses. I pray for peace to walk with you.

May the Lord bless you with a Thanksgiving filled with joy, peace and remembrance to count all of your blessings.    ~dani